Participation in the Roadkill project is designed to make both joining the project and participating as easy as possible. For example, you only need a username and password to register, and data entry can be done via apps for iOS and Android smartphones, or simply via the internet browser. Our website and apps are developed by Spotteron. If you already have an account with a Spotteron app, you can also use it in our online submission form or apps.
Now more specifically, how can you join?
Project Roadkill is available as an Android app for your smartphone in the Google Play Store as a free download:
https://play.google.com/store/apps/details?id=com.spotteron.roadkill
A separate app for Iphones is also available for free in the iTunes Store:
https://itunes.apple.com/at/app/roadkill-spotteron/id1007563102?mt=8
You can also use our online submission form.
Before you can actively participate using the Spotteron App, you must register or log in. As described above, we only require a username, email and password for registration or your existing Spotteron user account. If you are driving on a road in Austria and observe a dead animal that has been hit by a vehicle, simply report it via our app for Android or iOS or via the online form in the data entry. You can do this on the spot, or make a note of the location and enter the data at home on a computer with an internet connection.
However, always be aware of your own safety! Do not enter any spots while you are driving; do not take a photo on unclear stretches of road; always pay attention to the traffic and do not risk anything to enter a new spot! Your safety always comes first!
Download the app instructions from Spotteron: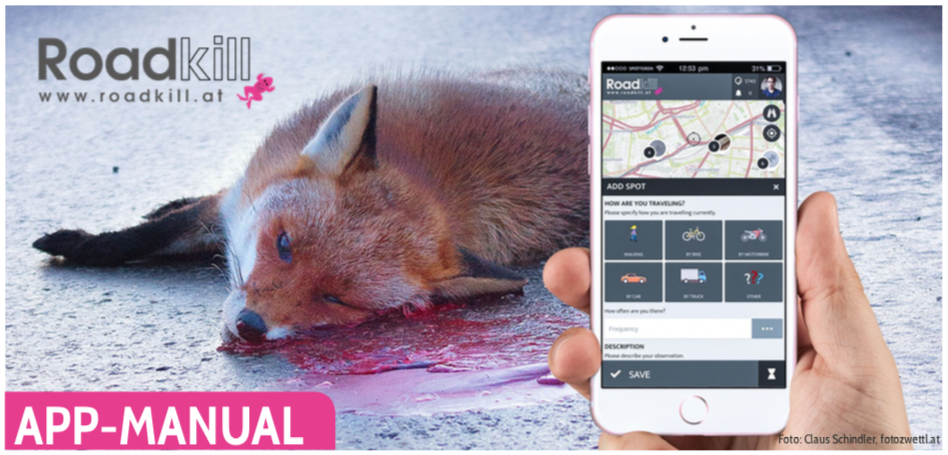 If you have any questions about the exact process of data entry, please write us an This email address is being protected from spambots. You need JavaScript enabled to view it..
Blog on Österreich forscht (the Austrian citizen science platform)
On Österreich forscht we have so far written four posts in German on our blog about functions of the app and the project website. Here we describe exactly how to use the individual functions:
How can I avoid Roadkills?
Even now you can do a lot to avoid road kills. For example, it is a widespread misconception that amphibians survive by taking them "between the tires" with your car. Velocities over 30 km / h can already lead to the death of the amphibians, due to the vacuum under the car their lungs can burst.
If you want to be more active in the protection of frogs, toads, newts etc. on the road, you are sure to find an association near you which is working with amphibian protection fences along the roads and looks forward to your help. Contact your local museum to find out more about these associations.
Most road-kills with game animals happen during twilight, drive very carefully here and pay more attention to the edges of the road. The signs "Deer crossing" show particularly vulnerable spots and should be taken seriously, even if you have never seen a game there.
We would like to take this opportunity to thank the developers of Spotteron for the easy to use and reliable apps and the website.